Today we are honored to be co-hosting the Loving Lately link-up. See the end of this post for all the details. But first, we'd love to share what we've been loving lately!
ASHLEY'S PICKS:
I love the interesting shapes that these belts create. So much better than a plain boring belt.
I'm on the lookout for a less expensive version of this coat. If anyone has any tips please let me know!
This is a great gold. I love how it's shiny without being glittery.
I am not a pumpkin carver. Bad experience. I can however get on board with pumpkin painting. These are too cute!!
Pumpkin waffles with apple cider syrup. Sounds Amazing!!
Four strand braid. Now that my hair is longer I would love to try this.
This is a really cool idea for artwork. Knowing Ash and I this wouldn't take long to make! ;)
Love this artwork made from domino's!
A little inspirational quote!
It's Tuesday which means it's time for Loving Lately!
This is a weekly link up hosted by the fabulous
Carly
,
Kristen
,
Niki
&
Rachel
! Join us and link up what you're loving lately! Whether it's fashion, color, crafts, interiors, beauty products, yummy and delicious, or really anything else, we want to know!
Please be sure to read the rules before linking up :)
Rules
1. Follow Your Hosts and Co-Hosts
2. Grab a Button
Or link back to one of your hosts, and help us promote Loving Lately!
3. Link Up!
Link up your post on what you're loving late
ly!
Please do not link up your entire blog or any posts that are not "Loving Lately"!
We are so happy to have you link up, and we do go through and read all of the posts, so if you do not give credit, we will have to remove your link. And we don't want to have to do that! So please share the love and include a link back!
4. Mingle
It's a linky party after all!
Visit some of the other posts in the linky and say hello!
5. Tweet!
Help us promote and grow this party! Send a tweet and let everyone know you linked up!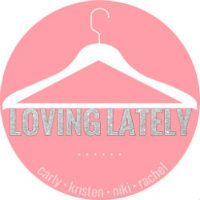 Let's get this party started!